On Monday, February 12, 2018, ripples went through the rock media worldwide.
It was announced that Niclas Etelävuori, who had split acrimoniously from Amorphis last year, and former HIM-members Mikko Lindström and Mika "Gas" Karppinen had started a new band called Flat Earth. Two weeks before, a mystical photo showing these gentlemen sitting in their rehearsal studio had leaked out into the Net, but there was no clue regarding any possible vocalist. There's been a lot of speculation as to possible candidates for the job over the past two weeks, but now this riddle, too, has been solved.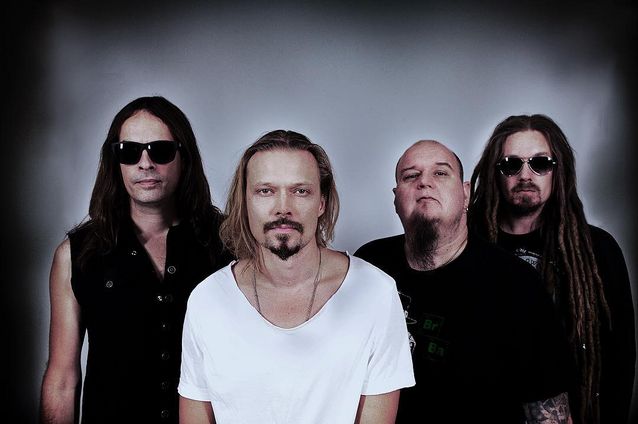 "Silke Yli-Sirniö, who's been helping us get this band off the ground, recommended a guy named Anttoni "Anthony" Pikkarainen, who had been singing in a band named Polanski. The band had made a record, and after we'd listened to it, we had to set up a meeting immediately. I have a great feeling about our new band. Anthony had recorded with Hiili Hiilesmaa before, and the rest of us have known each other for years. It feels as if all the stars have finally aligned." Linde tells me, visibly excited, when I meet him at Finnvox Studios.
FLAT EARTH got started after Niclas Etelävuori fell out with the manager of Amorphis, Jouni Markkanen. Suddenly, Niclas was left stranded. He decided to show the world that he still had a lot to give, so he started looking for possible bandmates. Linde first sprang to mind, even though he still had his hands full with HIM at that time. Nevertheless, the two of them kept meeting regularly, and started working on ideas for new songs. Getting Anthony on board provided additional inspiration. And when their old bandmate Mika Karppinen finally joined on drums, the band's line-up was completed.
While Linde was busy playing the States and Europe on HIM's farewell tour, the remaining trio spent their time recording drums to seven pilot demos that had previously been taped in Niclas' basement studio. Karppinen brought along two of his own songs, and Anthony composed a new track for the band. Linde found an old song of his he had first fleshed out when he was only 13. The rest of the tracks were Niclas' ideas mainly, treated to the band's arrangements, with Anthony providing both the vocal melodies, as well as the lyrics. Basic structure for the first album was ready.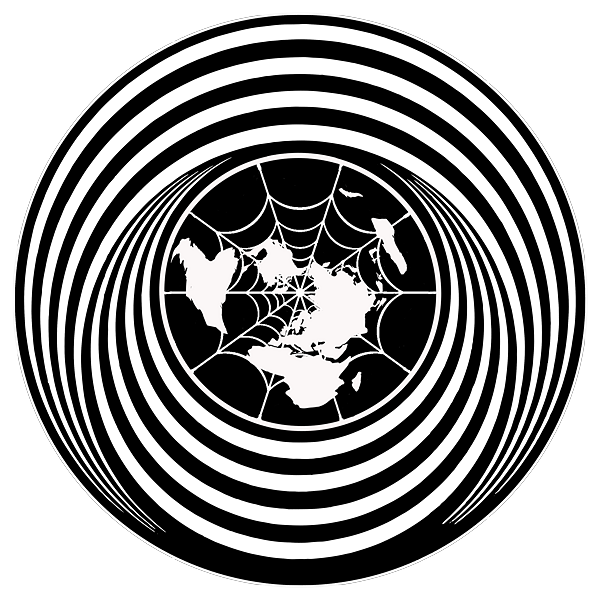 THE MOOD in the control room of Finnvox Studio B is very relaxed. This is Finland's equivalent to London's Abbey Road Studios, and has become something of a second home to legendary producer/engineer Hiili Hiilesmaa, who sits behind the mixing console, and to Linde, who's busy tuning his guitars. Some of Linde's guitars needed a once-over, and Linde also needed some additional effects, which is why I entered Finnvox on Tuesday. Of course, I was also very keen on listening to their new recordings.
"The last time we've met here must have been five years ago" Hiili says as we greet each other.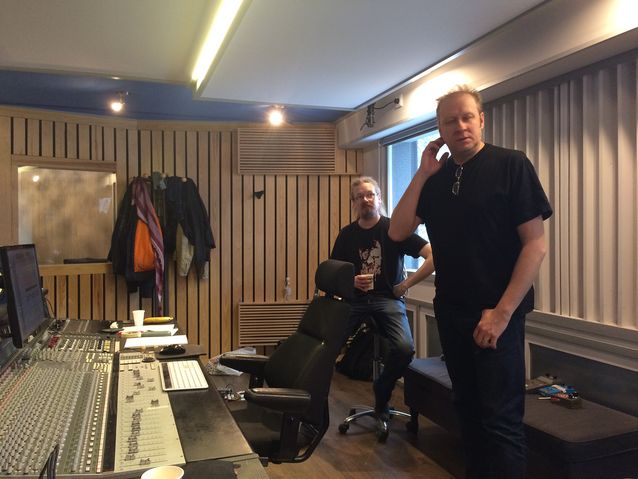 True – time has really been flying since HIM recorded the album, that was destined to become their last, at this very studio. The atmosphere is really laid back this time, which is a very good sign. Nobody seems to be nervous or uptight, instead there's friendly banter, even though the record in the works might prove to be the most important of the musicians' careers. I sit down at the far end of the control room, trying to become the proverbial fly on the wall, while Hiili and Linde record guitar tracks.
A look in the amp booth shows three different amps set up for recording duties: A small Fender Champ is used for fuzz tones (Hiili says this amp is almost 40 years old). The main brunt of the guitar tones is handled by a Peavey 5150, with a lightly overdriven Laney Lionheart filling out the tonal landscape between the other two amps. The idea is to record six guitar tracks in total, by double tracking all three amp sounds.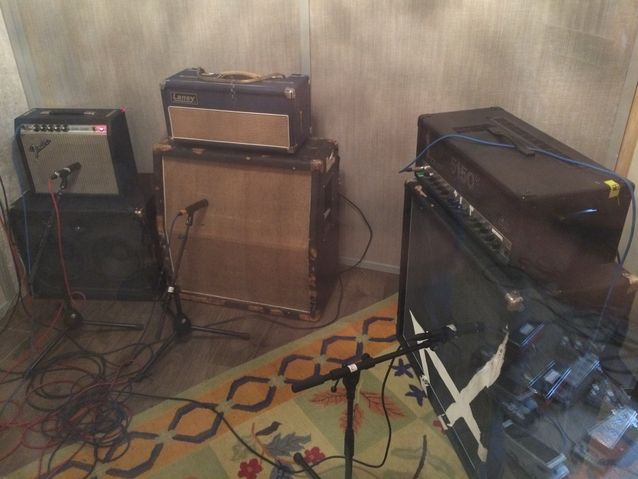 I listen to a guitar melody that reminds me of Middle Eastern music, and as I turn I can see Niclas, with his computer in his lap, grinning approvingly. While everybody is fully behind this band, this still really is Niclas' baby. It's his concept, he handles the website, he has booked studio time, he has brought everyone together, and he's also written most of the songs.
Hiili comes up with some ideas, Niclas voices his own. Linde and Anthony also voice their opinions. Everybody seems to be stirring the pot, and it becomes quite clear that Anthony is a very musical singer. He has a clear vision when it comes to the character and vibe of different song sections, and it's great to be able to watch the creative flow firsthand.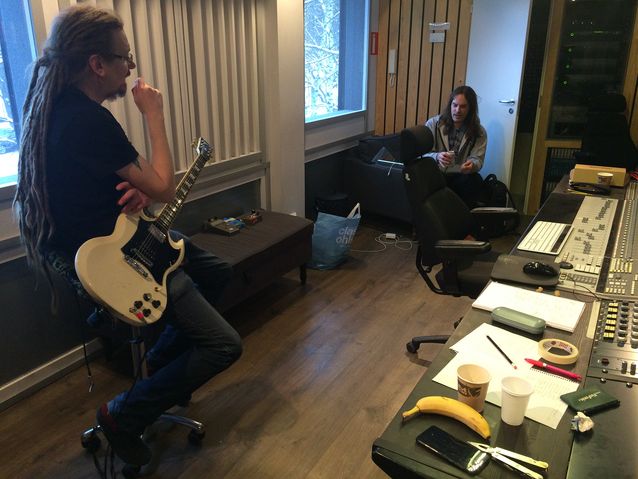 They ponder the use of different synth sounds to bolster different melodies. The EBow is mentioned, as well as using a vibe pedal, and I start planning a pedalboard for upcoming gigs in my mind. I'm sure there will be gigs, sooner or later, but let's not get ahead of ourselves. Right now the band's still in the studio.
Looking at these musicians – not forgetting Gas – it's crystal clear that this band's charisma is strong enough to fill even the largest stages. Gas is the only one not present. He has recorded all his drum parts in less than two days. The drum parts are hard-hitting, in Gas' usual style, but the music seems more relaxed than what I had been expecting. But listening to the recordings, there is no mistaking who is manning the drum stool.
ANTHONY's vocals have clear Grunge references, but the music is something different altogether. If I called this music "Melodic Heavy" younger listeners wouldn't necessarily know what I'm talking about, as my knowledge of Metal genres is stuck in the Nineties. Certain elements in Flat Earth's music remind me of stuff I really liked in that decade, but this is only part of the whole picture. This record isn't finished, yet, but the fact that I feel compelled to sit down on a Tuesday night, after a long day of work, tells you something of the energy this band and its music generates.
Next week proceedings will move to Hiili's own studio in Hämeenlinna, where the vocals, and, finally, all bass tracks, will be recorded. Without a doubt Niclas' parts will add a lot of character to his band's music. We talk about recording bass tracks, and I reminisce on Paul McCartney's way of recording his parts last, so his bass lines would complement the vocals seamlessly.
Niclas plays me some of the preproduction demos on his laptop, giving me an idea of what the songs will sound like with the vocals added. Anthony has a strong and personal vocal style, which will guarantee that Hiili's production will end up sounding fantastic.
Niclas says: "All vocal lines have already been written, and I have developed my bass parts to fit. I'm sure you will like what you hear".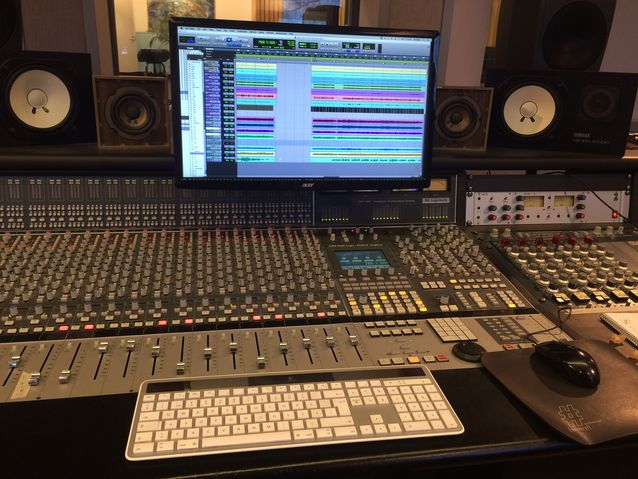 I know many of you will want to know what type of music Flat Earth is playing. Let me put it this way: In the control room I heard a lot of interesting harmonies and dreamlike chord progressions coming out of the monitor speakers. Music unlike anything I've ever heard before. To me the music is kind of psychedelic, but this is only part of the picture. Linde has a knack of playing heavily distorted open chords without ever mushing out or loosing definition. This is something my ears haven't been used to, which makes it hard to define this band's music and genre. I can't think of any similar band to compare Flat Earth to, I'm sorry. Still, this is definitely rock music, no doubt about it.
LINDE has been given two days to record the rest of his rhythm tracks. His Gibson Sheryl Crowe Signature guitar is quickly ferried off to Kai Järvinen for an overnight fret work. Hiili shows me his Danelectro baritone electric, which will be used for some overdubs, too. Mostly Linde sticks to his beloved Gibson SGs, and his array of fuzz boxes, wah-wahs, and octavers. Familiar tones to many of us.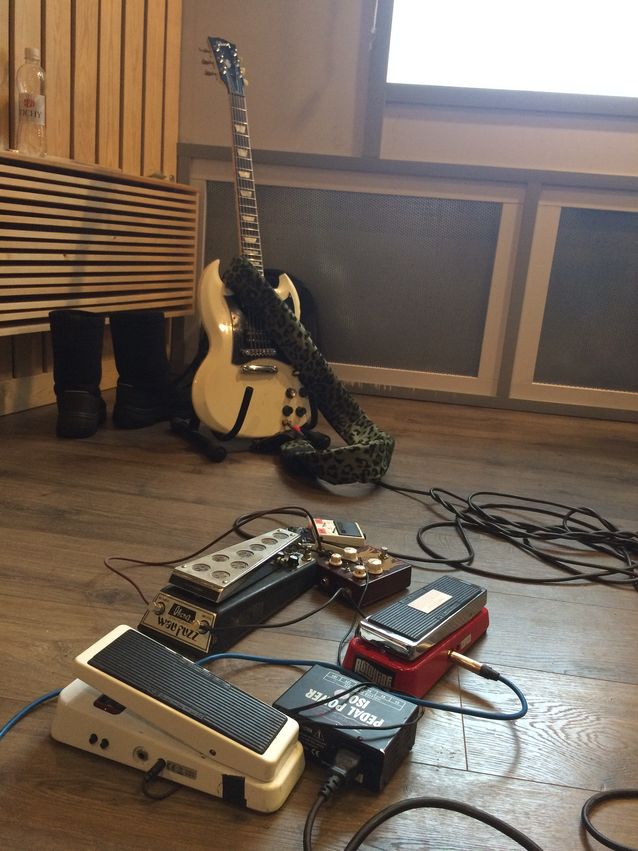 Concluding this session, Hiili and Linde start setting up sounds for Wednesday. They look for sounds that will sit in the mix, tones that will complement what is already recorded.
Over his years in the business Hiili has learned to avoid sessions that drag on after hours and all through the night.
"Your hearing will get tired, no matter what you do, which will lead you to make bad decisions. Crucial and final decisions on sounds are best made in the morning after a good night's sleep." With decades in the business, this is advice we all should stick to.
FLAT EARTH have announced a crowdfunding campaign yesterday, meant to finance their studio time, allowing them to make this record as good as it can possibly be, without the need for compromises. When I ask Niclas who has been paying for the sessions so far, he tells me the band members have been financing this endeavour out of their own pockets. This shows how much the musicians trust this band.
"Right from the start there has only been this one basic rule: This should be a pleasant ride for everyone involved. I've found a group of musicians who get along well. This band's chemistry is great, and I believe in this band 100 percent. We're stoked that our announcement yesterday has resulted in such a wave of positive feedback."
If you want to support these great musicians, so they can create music for us all to enjoy, please take part in their campaign. Judging by the vibes and the energy I felt at the studio, this record will be groundbreaking.
14.02.2018 Kimmo Aroluoma
The writer is a former HIM guitar tech and the owner of Custom Boards.